Things to do in...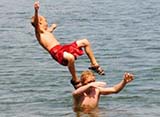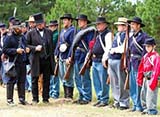 The Town of Iukawebsite
Antique Shops

Cappleman's Antiques
The other one

Biking/Hiking Trails - Be sure to take a stroll down the Tennessee Tombigbee Waterway or hit the walking trail at the famous Iuka Mineral Springs Park.
Bargain Shopping
Boating
Camping
Canoeing
Canyons
Festivals/Special Events See Events Calendar
Fishing
Golfing
Historic Sites

Civil War
Historic Minerals Springs Park
Oak Grove Cemetery
Old Tishomingo County Courthouse Museum
Shady Grove Cemetery

Movie
Museums

The Apron Museum has a unique collection of aprons

Music
Playgrounds
State Parks (Tishomingo County is the only state in Mississippi to be honored with two state parks; J.P. Coleman State Park in Iuka and Tishomingo State Park in Tishomingo).
Tennessee Tombigbee Waterway – The Tenn-Tom Waterway is accessible from several points in Tishomingo County. Come boat, camp, ski, fish or hike on the Tenn-Tom Waterway.